Architectural & Ballast Roofing Pavers
Unity Surfacing Systems has developed and patented a superior, resilient product made from 100% recycled tires and rubber that is clean and safe to use in almost any environment. Our ingenious design and unique features give us an unparalleled advantage over competing products in the industry.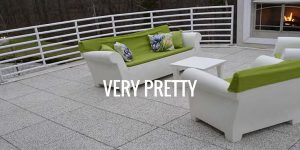 Product Highlight: Usable Space
Unity has created an impressive way to turn unsightly rooftops into usable spaces while at the same time providing thermal and mechanical protection.
Product Highlight: Performance
The performance, long-term value, color diversity and economical benefit appeals to architects, engineers, designers, building owners and managers when renovating rooftop projects.
Product Highlight: Design
Size, weight, durability, interlocking design of the built-in pedestal system, coupled with the specially formulated one-part adhesives, provides resistance to premature wear and tear.
Product Highlight: Testing
The only manufacturer to pass several types of class "A" fire tests, including modified versions specifically for these applications, making our products superior for such installations.
Need to add architectural and ballast roofing pavers to your next roof? Dean Brown from Congress Associates is your specialist for Unity Surfacing Systems. Contact Dean with your questions at dean@congressassociates.com
(203) 533-2443.