Advanced Technology for Interior and Exterior Application
NovaBond® Hybrid Construction Sealant is an all-weather hybrid sealant that offers superior adhesion and flexibility with near zero shrinkage and fast skin-over curing performance. NovaBond Hybrid Construction Sealant is one component, ready-to-use hybrid sealant that requires no mixing or preparation.
NovaBond® Hybrid Construction Sealant functions as a hybrid adhesive sealant, which develops a bond to most substrates without the use of a primer. This ready-to-use single-component compound is typically used as an adhesive to bond dissimilar materials, as a sealant for creating formed-in-place gaskets, or a multitude of other applications. Recommended for Sealing: Siding, trim, windows, doors, flashings, weather sealing, pre-cast concrete, masonry, roofing details, stucco, fiber cement, and asphalt shingles. We recommended that a quality caulk gun is used to ensure ease of application.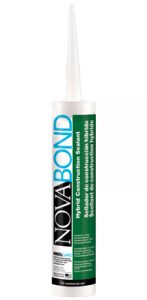 Hybrid Construction Sealant
Paintable in 1 hour for seamless color matching and faster job time
Bonds to a variety of substrates without priming
Can be applied vertically and overhead
The all-weather formula is permanently flexible
Long lasting with zero shrinkage or cracking
UV and mildew resistant extends application intervals
Safe to use indoors, low odor and dirt-resistant
Professional grade AAMA verified
50 state VOC compliant California Proposition 65 compliant
For a pdf with more info on NovaBond just click it!