The Largest GT-1 Tested Gutter Available
Size Matters: This is the only gutter GT-1 tested up to 14″. Engineered for contractors & specifiers, the Wind Resistant XL Gutter is the market's largest ANSI/SPRI GT-1 tested system. With a 30-Year, 160 MPH Wind Warranty, this innovative labor-saving solution is available from 8-14″.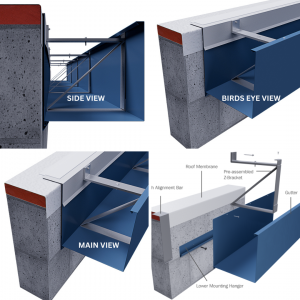 Benefits of the Hickman XL Gutter
Reduces Time on the Edge
Accelerates installation by 30-60%, significantly shortening the time spent along the roof edge.
Option to Pre-Assemble
Allows for safe & quick assembly in the shop or on the roof prior to positioning the gutter.
No External Brackets & Wind Straps
Five internal Z-Brackets instead of external brackets & wind straps, improving efficiencies & curb appeal.
Minimal Downspouts
Expanded capacity reduces downspouts needed, requiring less installation labor & enhancing aesthetics.
Rauch Alignment Bar
Unique Alignment Bar eliminates chalking or pre-measuring & ensures optimal placement across the building.
Skip Post-Painting for Quicker Lead Times
Faster turnarounds when post-painting & color matching are unnecessary with no external brackets to cover. See what specifiers & roofing contractors say about the new Wind Resistant XL Gutter & request a quote today!
Revolutionizing Water Control
The Wind Resistant XL Gutter is the only gutter up to 14″ that is engineered & tested to meet the requirements of the ANSI/SPRI GT-1 Standard. The XL Gutter reduces installation time anywhere from 30-60%, taking a five-man crew down to two. See how & learn more by watching our video.
Congress Associates Mission
Congress Associates has decades of experience supporting the roofing and building envelope industry and centers around successfully partnering with organizations & individuals across the industry while supporting a variety of product lines that will best meet your project's demands. We work with companies & products to ensure your building keeps unwanted water out. Our services span the entire building envelope, from the foundation & utility access to doors, windows & the roof. The products we represent are all backed by world-class manufacturers committed to sustainability to make buildings last longer, reduce lifecycle costs, and increase energy efficiency.