6 Live Webcasts with Question & Answer Sessions
Join us for any or all of the following programs by clicking the title to REGISTER!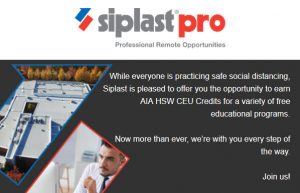 6.0 total credits available
1 PM CST on dates listed
Prizes!
SBS Membrane Composition
Tuesday, April 28, 2020 | 1:00 p.m. CSTE
With just the right amount of chemistry, we'll discuss the composition of an SBS-modified bitumen roofing membrane, and the impact of proper membrane engineering on long-term performance.
SBS Waterproofing: Plazas & Vegetated Roofs
Wednesday, April 29, 2020 | 1:00 p.m. CST
Join us for a presentation of SBS Waterproofing design concepts for vegetated roofs, plaza decks, and pedestrian areas, including a review of overburden options and all-important water integrity testing.
PVC Membranes & Systems
Tuesday, May 5, 2020 | 1:00 p.m. CST
From composition to appropriate building conditions, we'll present a thorough overview of PVC and PVC KEE roof membranes and the situations best suited for a single-ply solution.
Substrates: The Foundation of the Roof Membrane
Wednesday, May 6, 2020 | 1:00 p.m. CST
The substrate platform is key to a successful roof assembly. Tune in to this session and find out why, and how to make informed substrate decisions to meet project requirements.
Liquid-Applied PMMA Membrane Technology
Tuesday, May 12, 2020 | 1:00 p.m. CST
Discover the science of polymethyl methacrylate (PMMA) used in liquid-applied roofing and waterproofing systems, and learn how the technology translates to performance and suitability for a wide range of applications.
Asphalt & Pavement Protective Coatings
Wednesday, May 13, 2020 | 1:00 p.m. CST
Join us for an introduction to asphalt and pavement coating systems. In a marriage of aesthetics and functionality, these systems do everything from protecting asphalt to encouraging play.
Dean Brown knows just how the SiplastPro Education Sessions can help your roofing knowledge. Call or email Dean for more details & to schedule a session, (203) 533-2443
dean@congressassociates.com
#congressassociates #roofing #siplast #remoteopportunities #changeincourse #makeityours