SPRING IS COMING, we promise!
What a winter! Once the thaw sets in we will start hearing about all kinds of roofing fails. One kind of roofing has a particular advantage, a green roof! Yes, a green roof and Dean Brown of Congress Associates can tell you all about it.
Many waterproofing manufacturers are not in a position to offer overburden removal leaving the building owner with that liability and expense if a leak should ever develop. The overburden removal always costs much more than the repair of the leak itself. Siplast, using
Teranap
and
Zinco
technologies has that guarantee.
Siplast offers guarantees for system performance and also removing and replacing all overburden materials supplied by us as the manufacturer (including the growing media, which is usually the most cumbersome component and most costly to remove to access the waterproofing membrane to repair a leak).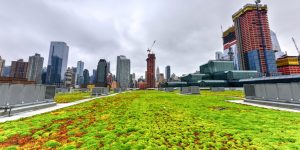 Siplast waterproofing systems are provided with a 20-year guarantee for the watertight integrity of the Teranap membrane without deductibles or limitations on coverage amount. Each project is unique and requires different solutions for different projects. Siplast will provide a written response outlining all technical & administrative requirements, confirm qualification for requested guarantee coverage, and all associated fees.
This includes the soil media, drainage components, and pavers. Any and all products that are supplied by Siplast (with the exception of the plants/vegetation which should be contracted out to the installing vegetative contractor).  In order to effectively provide these total system warranties, we must supply the entire system.
Teranap green roof applications can be specified with many landscape options, including both extensive green and intensive green assemblies. Teranap Extensive Green Roofs are characterized by low weight, low capital cost, and minimal maintenance. The growing medium is typically composed of a mineral-based mix of sand, gravel, crushed brick, leica, and peat organic matter.
Plant selections appropriate for extensive assemblies include sedum, grasses, wildflowers, and other low maintenance vegetation. Plants are watered and fertilized until they are established. At that point, minimal maintenance is required.
BENEFITS OF A GREEN ROOF
LONGER ROOF LIFE

Protection from harsh weather

STORMWATER RELIEF 

Reduces run-off

BETTER AIR QUALITY

Reduces dust and smog

NOISE REDUCTION

Improves sound insulation
Find out more about the process, guarantees and every detail pertaining to your project, call or email Dean Brown at Congress Associates for the professional assistance you need.