Dean Brown is our 2021 Legacy Award winner!
Congratulations to Congress Associates, LLC and Dean Brown on earning The Legacy Award! The Legacy Award is given annually to the company that most embraces the Hickman spirit. They are one step ahead of their customers, strive to solve their needs, and embody the customer and Hickman's business as their own.
Another great addition to the Hickman team, Congress Associates, LLC made a huge impact in a short timeframe starting as a Hickman Edge Systems LLC sales rep in 2021. Dean Brown is our 2021 "Legacy" award winner!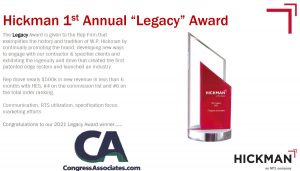 "Humbled and honored to have received the 2021 Legacy Award with Hickman Edge Systems! 2021 taught me to value great partnerships and continue to drive the business in ways that will add value and protection for our customers! Thrilled to be part of this journey with Hickman Edge Systems."
Congress Associates
Congress Associates works with companies & products to ensure your building keeps unwanted water out. Our services span the entire building envelope, from the foundation & utility access to doors, windows & the roof. The products we represent are all backed by world-class manufacturers committed to sustainability to make buildings last longer, reduce lifecycle costs, and increase energy efficiency.