Boston, MA
October 21, 2020 | 12:00 – 1:30 p.m. ET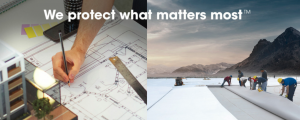 This 1.5-hour interactive workshop on Wind Design in Low Slope Roofs will help architects, specifiers, and consultants understand how to determine wind loads acting on a building, and how to use Approval Listings to select appropriate roof systems and edge metal.
The course will discuss the different calculators used in the industry and the ins and outs of Approval Listings, as well as review techniques to specify roof systems that meet (or exceed) Code requirements to keep roofs on buildings during wind events!
This virtual workshop will be hosted using the Zoom platform, utilizing breakout rooms throughout for small group discussions.
Lunch will be provided via GrubHub gift certificates.
Attendees will earn 1.5 AIA HSW or 1.5 IIBEC CEH credits.
The workshop will be held in the Eastern time zone.
Main Discussion Points – Roofing
Design process laid out in ASCE 7-16
Similarities & differences between ASCE 7-05/-10/-16
FM's wind design process
ES-1 edge metal design & compliance
Approval listing options
Learning Objectives – Roofing
Identify Code design requirements for wind uplift and edge metal design
Learn the foundational elements involved in determining wind loads acting on a building
Describe the similarities & differences between the three versions of ASCE 7
Differentiate between the load side & the resistance side & understand how Approval
Listings are presented in the roofing industry
Explain the recent changes & impact of the new information contained in FM's Loss
Prevention Data Sheets 1-28 and 1-29
Meet the Experts
Jennifer Keegan
Director of Building & Roofing Science
Jim Kirby
Building & Roofing Science Architect
Benjamin Meyer
Building & Roofing Science Architect
Congress Associates is a manufacturer sales agency representing a select few, cutting-edge, innovative roofing and waterproofing products. Committed to providing high-performance, sustainable products that deliver long-term results in an environmentally responsible way.
Call or Email Dean Brown for more details (203) 533-2443
dean@congressassociates.com