Kingspan Light + Air SkyPro skylight
Kingspan's structural systems offer numerous designs and detailed configurations to satisfy project requirements for custom applications. SkyPro options deliver custom skylight solutions that feature extruded, architectural grade, aluminum alloy components, and state-of-the-art glazing technology. And incorporate the finest stainless steel fasteners, silicone glazing blocks, and other top-quality glazing materials.
The SkyQuick system is designed for speed of installation at a lower cost. Intended for smaller applications, this system optimizes production time and utilizes the same premium materials used in all Kingspan Light + Air skylight systems. SkyQuick custom units ship pre-assembled and pre-glazed to expedite installation.
Custom Translucent Skylights
Quadwall® translucent skylight systems achieve the highest levels of building performance while enhancing the environments where we work, live, and play. These skylights offer superior thermal performance and provide even distribution of glare-free, diffused natural daylight.
System Configurations
Simple to complex, monumental skylight options are available in a variety of shapes, including:
Vaults
Ridges
Single Slopes
Pyramids
Polygons
Domes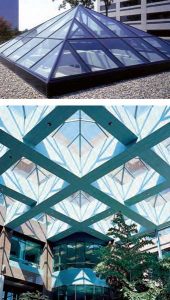 Now totally custom skylight options are available to accommodate specialized building designs and individual specifications with
Kingspan Light + Air systems. Congress Associates offer wind uplift, engineered stamped calculations, and custom shop drawings for projects of any size, turn-key proposals including all permits, assembly, glazing, and installation.
Congress Associates is a manufacturer sales agency representing a select few, cutting-edge, innovative roofing and waterproofing products. Committed to providing high-performance, sustainable products that deliver long-term results in an environmentally responsible way. Call or Email Dean Brown for more details (203) 533-2443  dean@congressassociates.com.