Contractors Promote Your Work for Free!
You can claim the roofs you work on! You can now install a GAF Plaque on every job you complete. By providing useful contact information, owners will know who to call should the property need maintenance or repairs. These plaques are a great way to promote your company, even if the property changes hands your information would still be there for the owner's reference. TPO roof plaques are available, FREE of charge, on the GAF Online Store. Use these "calling cards" on your roof installations should repair or maintenance needs arise.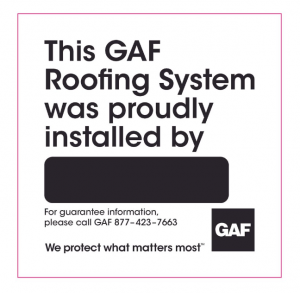 Plaque Details
Each plaque features:
Finished Size 8"x8"
GAF 60 MIL TPO
Your company name (25-character limit)
Your company phone number (12-character limit)
GAF Guarantee Services phone number
Ordering Information:
Order in increments of 5 – up to 20 plaques
Minimum order – 5 plaques; Maximum order – 20 plaques
Cost: $0.00
Shipping fees: Will be billed to GAF
Congress Associates
Our objective is to facilitate and enable the building owner, architect, consultant, and contractor to engage the right product or combination of products that will:
Keep moisture out of their building
Provide long-term performance
Help to keep our planet healthy
Our experience and the accumulated knowledge of our partner organizations will help you navigate the many products and promises, and aid you in making informed and aware decisions regarding the products required in your building's construction.
Congress Associates is a manufacturer sales agency representing a select few, cutting-edge, innovative roofing and waterproofing products. Committed to providing high-performance, sustainable products that deliver long-term results in an environmentally responsible way. Dean and Derek are ready to support your project.