Know the Difference Before You Buy
Plastic Slate & Shakes are priced in the same price range as lightweight clay tiles. The problem is the performance of plastic or rubber does not compare to the performance of clay tile. Plastic Slate & Shakes does not have a history of long-term effective performance. Plastic Slate & Shakes can be 3-4 times the cost of asphalt shingles but struggle to match the asphalt shingle performance. Due to plastics or rubbers' inability to withstand heat, problems such as warping, curling, fading, & chalking occur.
For over 130 years architects, homeowners, universities, commercial, and government clients have turned to Ludowici for uniquely beautiful architectural terra cotta clay tile products that stand the test of time. Crafted in New Lexington, Ohio, our clay tile products are infinitely customizable and carry a 75-year warranty. Ludowici clay tiles are of the highest quality available—chosen to adorn thousands of historic and newly built structures around the world.
Can you find a 10-year-old plastic slate or shake roof in your market that still looks beautiful today?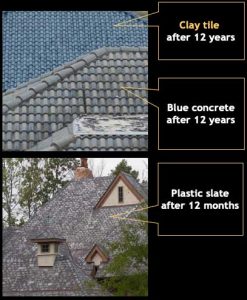 Grade 1 CLAY TILE will not:
Fade
Chalk
Effloresce
Curl
Flake
Spall
White Salt Deposits
Freeze-Thaw Fail
Salt Infusion Fail
The Ludowici Solution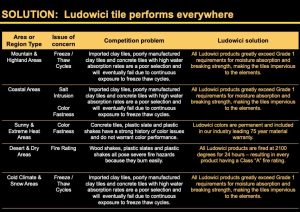 Style Types of Tile
Barrel Tile – From the classic architecture of Ancient Greece to the rustic missions of California, barrel tile has become synonymous with clay roof tile. Shingle Tile – The heritage of Ludowici's shingle tiles lies in the charm of age-old European roofs. Interlocking Roof Tile – The classic aesthetics, versatility, and ease of installation make Ludowici interlocking clay roof tiles a favorite of architects and homeowners alike. Shake -Ludowici wood shake roof tile alternatives achieve the charm of a classic wood shake roof without maintenance. Slate – Ludowici slate alternatives feature the beauty of natural slate and add the enhanced durability of terra cotta. Graduated – Crafting roof tile to fit the curvature of a roof has been a Ludowici specialty since the late 1800s. Custom – Ludowici's range of custom roof tiles is unsurpassed by any other manufacturer in the world.
Congress Associates
Congress Associates is proud to work with a select few roofing membrane and accessory product lines. Our roofing membrane partners instill trust in your investment and ensure your building keeps unwanted water out. Our rooftop accessory partners provide our customers with the assurance that we are conscious of the environment and take pride in helping reduce the world's carbon footprint with alternative daylighting solutions.
In addition, we provide a safe and stable space high above the ground level with our state-of-the-art safety rails and hatch solutions. As you can see with the partners we have teamed up with our services span the entire building envelope, from the foundation & utility access to the doors, windows, and roof. The products we represent are all backed by world-class manufacturers who are committed to sustainability. Together, we work to: Make buildings last longer, Reduce overall lifecycle costs, and increase energy efficiency.