Did you know, every working day one person is hurt in a slip, trip or fall on work stairs or steps?
Descending steps is associated with many accidents. Slips are more common (than trips or falls).  Keep your stairways safe for daily use with our products from Wooster. Wooster Products Inc has continually made quality anti-slip stair treads and walkway products right here in the USA since 1921. Make sure your stairway is always safe, ask Dean Brown from 
Congress Associates
 more about Wooster Safety Stairs products.
NITEGLOW®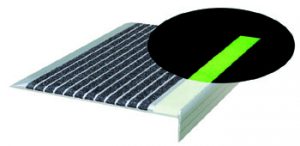 NITEGLOW® (Glow-in-the-Dark): Bring your building up to IBC, IFC, and NYC code compliance and provide luminescent outlines of egress stairs. The entire photo-luminescent area is slip resistant.Recharged by any light source, natural or artificial. Available for new construction or renovation.
ALUMOGRIT®

Alumogrit® is best on abrasive castings for maximum durability in rough use indoor or outdoor areas. It has excellent resistance to unusually corrosive environments and has anti-slip safety properties. It is convenient and ready to install.  Good for both new construction or existing buildings.