Are You a Scrooge?
Keeping the Cash Flowing in Winter! Are you a Santa or Scrooge for Christmas? Winter is a tough time for roof replacements. Bad weather and busted budgets make many roofers tighten their belts to make payroll. There is a better way! Build your Maintenance and Warranty service business now to give yourself the best present ever: consistent cash flow! Join us for great insights on this critical roofing business discussion.

Live Webinar
Dec 8, 2022 11:00 AM ET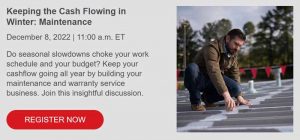 Congress Associates is a Santa!
Congress Associates is proud to work with a select few roofing membrane and accessory product lines. Our roofing membrane partners instill trust in your investment and ensure your building keeps unwanted water out. Our rooftop accessory partners provide our customers with the assurance that we are conscious of the environment, and take pride in helping reduce the world's carbon footprint with alternative daylighting solutions.
In addition, we provide a safe and stable space high above the ground level with our state-of-the-art safety rails and hatch solutions. As you can see with the partners we have teamed up with our services span the entire building envelope, from the foundation & utility access to the doors, windows, and roof. The products we represent are all backed by world-class manufacturers who are committed to sustainability. Together, we work to: Make buildings last longer, Reduce overall lifecycle costs, and increase energy efficiency. The products we represent are all backed by world-class manufacturers committed to sustainability.
Together, we work to:
• Make buildings last longer
• Reduce lifecycle costs
• Increase energy efficiency