OSHA's Walking-Working Surfaces & Personal Fall Protection Systems Final Rule
January 17th, 2017, OSHA's "Walking-Working Surfaces and Personal Fall Protection Systems Final Rule" went into effect. What does this mean for you? It makes the rules easier to follow and provides employers with greater flexibility to choose the fall protection option that works best for them. It also means greater consistency between General Industry and Construction Standards.
SafePro Chute Guard System
allows for easy access to the perimeter edge for the contractor to dispose of debris while being OSHA compliant with our "rolling-gate" technology. SafePro Perimeter Rails serve as a temporary or permanent hazard barricade during rooftop construction. Ballasted, Non-Penetrating Steel Bases are built to last and will not void existing rooftop warranty. The perimeter rails can be configured as a 4-sided structure to guard skylights, rooftop fall hazards, open holes, and ground-level for multiple uses.
Now with Clasp Guard, the new clasp addition prevents the gate from opening during high wind events and helps to hold the gate in place while climbing up the hatch ladder. SafePro Roof Hatch Safety Rails are a patented 4-Sided Rail System with ergonomic hand grip side rails, two additional ladder rungs for safe egress and ingress to the roof. It has a self-closing gate with no-pinch hinges and is OSHA compliant. SafePro's steel system is the strongest rail on the market, load tested at over 1,000 pounds. SafePro rails come standard powder coated safety yellow or galvanized steel with no chains or latches to operate or snag/pull clothing.
SafePro Parapet Wall Clamp System
Every contractor in the business needs this wall clamp assembly.  The SafePro Parapet Wall Clamp allows the contractor to use their "hard-rail" perimeter rail assemblies in conjunction with our clamp.  This allows the contractor to eliminate waste and other expenses of having to previously detail the perimeter edge where Parapet Walls exist with lumber and other materials for OSHA Compliance.  This is the best way to protect every contractor employee involved in a roofing application. Call Dean at Congress Associates for all the details!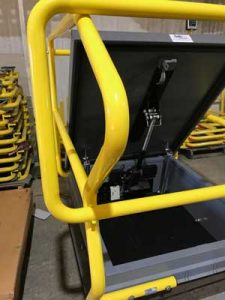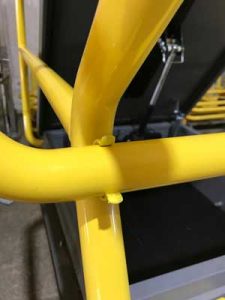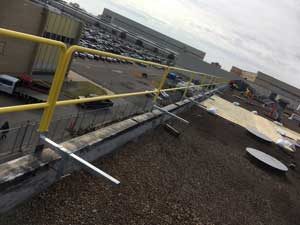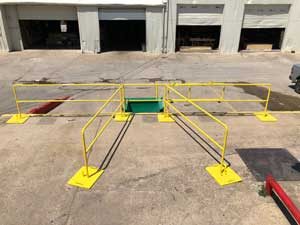 Demonstration of SafePro