What is the ElimiNailer?
Imagine drastically reducing the time and labor it would take to retrofit a metal roof flute fill project. That dream can become a reality if designed with Eliminailer-T, which makes flute fill installations fast and easy by eliminating wood blocking assemblies.
Eliminailer-T installers no longer have to cut individual wood blocks to fit each pan section. In addition, it is possible to extend insulation to the roof edge, improving thermal performance.
Eliminailer-T fits securely against the roof perimeter and is designed for quick fastening into the purlins or structural supports using pre-punched holes. Add a 1/2" cover board on top to finish.
Eliminailer-T provides superior edge securement and is backed by Hickman's 215 MPH Lifetime Wind Warranty. Wood nailers take significantly more time to install and offer no warranty protection or performance guarantee.
Eliminailer-T Metal Roof Retrofit benefits
– Simple, easy installation (up to 60% faster)
– Elimination of wood blocking assemblies
– Superior and lasting edge securement
– Unmatched 215 MPH lifetime wind warranty
Metal Roof Retrofit Applications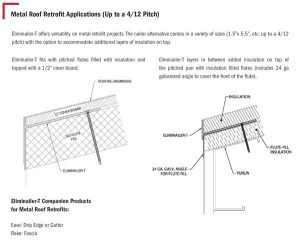 Dean Brown, principal at Congress Associates has 20 years of experience supporting the roofing and building envelope industry. Successfully partnering with organizations & supporting a variety of product lines that will best meet your project's demands.